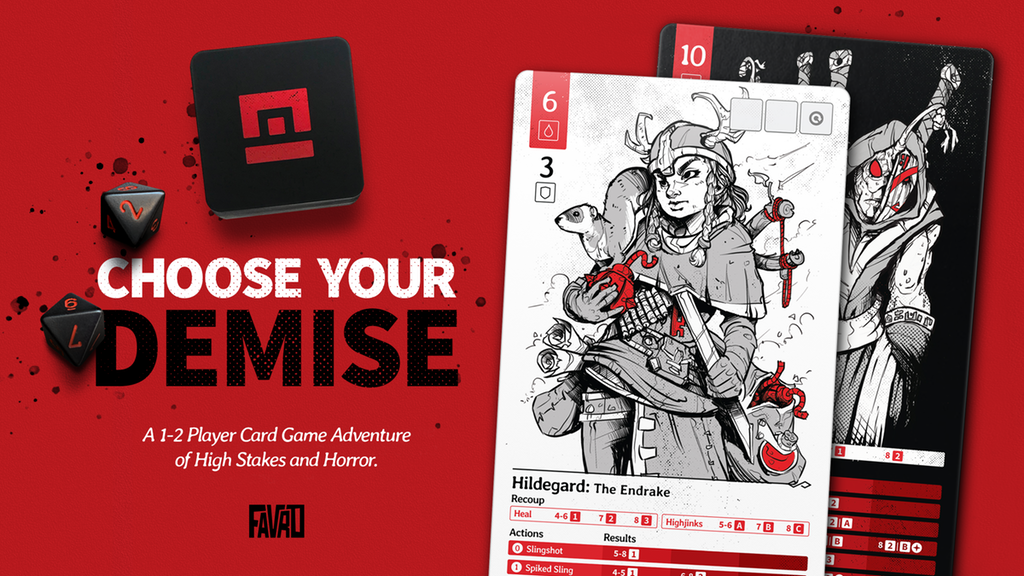 Spire's End - Solo & Cooperative Card Game Adventure
Created by Greg Favro
A harrowing card game adventure with enemy encounters, interactive story-driven scenarios, and high-end art and design.
Latest Updates from Our Project:
7 Days & Counting!
9 months ago – Sat, Nov 09, 2019 at 02:04:43 AM
Custom Sleeves are the next Stretch Goal!
9 months ago – Fri, Nov 08, 2019 at 02:08:07 AM
They said it couldn't be done, but the good people at Sleeve Kings are poised to make Custom Cleartech™ Polypropylene Sleeves for Spire's End!
If the Stretch Goal (55k) is reached the plan is to have a complete set of sleeves for both size cards for $7. If you only want to sleeve the story cards (jumbo 6.5 x 3.5) you can do that for $6.
More details to come if the goal is met! 
That's Her!
10 months ago – Wed, Oct 30, 2019 at 10:46:15 PM
Here's a look at Rangitaki! I am very happy with how she has turned out!
Her actions are still being worked out. That will have to come further down the line. I am determining if she is going to be a little bit different or fall in line with the rest of the crew.
In any case thanks again everyone for the support! It's been a lot of fun so far and I look forward to the 2nd have of the Kickstarter!
Greg
Rangitaki Arrives Wednesday!
10 months ago – Thu, Oct 24, 2019 at 11:15:40 PM
1000 Backers!
10 months ago – Wed, Oct 23, 2019 at 11:41:31 PM
On behalf of the Baby Feeder (guess that means a parent is lurking around here somewhere…), we thank everyone again for the incredible support! The Baby Feeder looks forward to being defeated by all 1000 of you! Don't feel bad for him, he can't get anywhere without someone pulling the bucket anyway…
As mentioned I should be able to show a little bit of the working progress on Rangitaki fairly soon. We are also working on some art for the boss encounter in chapter 4! 
We'll keep at it! More to come!